Fast food is something that we all love -a universal favorite food to be precise. But have you ever thought about why fast food is called fast food? Does it get made quickly? Is it easy and speedy to eat? Well, it is a combination of both of the answers.
Fast food is the type of food that is produced in mass quantity]ies to accommodate customers who do have enough time to sit and fine dine. It is made up of pre-cooked stuff that allows the restaurant to serve the customer as soon as he places it ( or in a few minutes). Here, the strategy is to speed up the process with minimal emphasis on dining and table services. Turnover is huge due to speedy activity.
Fast food restaurants are distinct from casual food restaurants because of their ability to serve customers quickly. They even serve via a drive-through where people do not have to wait for the waiter to come and take the order and then prepare your food before serving. Fast food restaurants are also called Quick Service Restaurants (QSR) due to the same reason.
Fast-food chains have a history from the USA from where it got recognition as the term "Fast food" in Marium Webster. The term became well known when more businesses came up with the idea of serving customers before making them wait. And since then, the world has got a lot of fast food restaurant chains across the globe.
Some of them are categorized as top fast food restaurant chains due to their global scope and the quality of food they serve.
Here, we have listed down top fast food restaurant chains, those that are known by everyone in almost every part of the world. Their widespread scope has made them categorized in the lost below in the competitive world where thousands of fast-food restaurants serve food to the people in almost every street of developed and developing countries.
The following list has been made based on the number of locations of the restaurant across the globe. If any other factors are taken into account, the ranking may vary.
From the data of June 2017, Subway operates at around 42,000 locations in more than 100 countries across the world. It was formed as an American private company selling sub sandwiches and salads as their main product with some other types of sandwiches and cookies as slides.
Moreover, Subway has used the slogan of "Eat Fresh" as part of its advertising campaigns. It focuses on how it used freshly baked bread and ingredients in front of the customers that meet the exact specifications for the choices of types of chicken, bread, veggies, and sauces to make a sub that is only for you. Subway calls its employees "Subway Sandwich Artists."
Like Subway, McDonald's is also an American fast food company that owns around 37,855 locations in 119 countries. As per the revenue of the chain, it has outranked all other restaurants. Its main product is hamburgers, cheeseburgers, and french fries, but it also serves breakfast items, some other chicken products, and desserts, including sundaes, cones, and milkshakes.
McDonald's has an arches logo in golden color with the letter "M," which identifies the top fast-food restaurant chain. Some restaurants of the chain also have a playground that is called McDonald's Play Place and is featured with slides and ball pits and a similar type of crawl tube design in every location.
Like most of the top fast-food restaurant chains, Starbucks is also an American fast food company that originated in 1971. It is the largest coffeehouse globally, with around 30,000 locations in over 77 countries around the world. Its main product is hot and cold coffees with different combinations, frappuccinos, lattes, espresso, whole bean coffees, and many others, along with snacks items that include chips, pastries, and crackers according to locations and also local flavors.
Starbucks does not only operate as a restaurant, but it is also a brand whose products are packaged and sold at grocery stores. Its logo has a sketch of a twin-tailed mermaid or "a siren" in Greek mythology. It has changed over the years concerning color and focus of the text, but the siren has remained as the symbol of Starbucks since its origination.
Starbucks has also got an automated system in some of its locations with the machines installed. People can stop and place their order by touching on the screens. They even have games to play while waiting for their order to be served.
KFC is an abbreviation for Kentucky fried chicken. It is an American fast-food company that deals in fried chicken as its specialty. With regard to sales, it ranks second after Mcdonald's. KFC operates at almost 22,000 locations in 145 different countries across the globe. It has the same parent company as Pizza Hut.
KFC is famous for its slogan "its finger-licking good," It justifies it by producing delicious deep, and pressure fried chicken pieces served in a plastic bucket that is a signature style of the chain. Along with that, some other chicken sandwiches, fillets, burgers, salads, soft drinks, and fries are also served at KFC.
Burger King is an American top fast-food restaurant chain founded in 1953 that specializes in hamburgers. Later, in 1957 it introduced a burger named "Whopper" that gained a lot of popularity and became a signature product of Burger King. It has around 17,800 locations in about 100 countries globally. Today, approximately 99.7% of the Burger King restaurants are privately held franchises.
Burger King's main menu is based on burgers, fries, soft drinks, milkshakes, and desserts with a variety of burger options having Whopper as the signature burger of Burger King. Burger King has around 1 million visitors every day, with a revenue of 8.6 billion per year.
Pizza hut is the largest fast-food restaurant chain in delivering pizza across the world. The latest reports have shown that Pizza Huts operates at around 18,703 locations in 93 countries. Pizza Hut has the same parent company as KFC and Taco Bell.
Pizza Hut has different business models that include a dine-in restaurant, only a store-front delivery location, and some of them are hybrid, which also offers "all you can eat" buffets. Some of the places in the USA, UK, Canada< Australia, and Mexico are found in the original "red roof" style that was the unique exterior of Pizza Hut.
After Pizza Hut, Domino's Pizza is the largest pizza delivering restaurant in the USA. The logo of the restaurant initially had three dots representing 3 locations and was planned to have an additional dot with every new site. But the idea failed with the extensive growth of the chain. It has been titled ad "chain of the year" in 2002, 2010, and 2011 in Pizza Today magazine.
Domino's pizza has an application through which the customer's order's progress can be checked in real-time. A variety of crust styles and toppings of pizzas are offered at Domino's, varying with the local flavors' locations. The main product remains the same, i.e., pizza with the sides of bread bowls, pasta, and oven-baked sandwiches, and the only option of coca-cola as a drink.
Dunkin Donuts ranks among the world's largest coffee and baked goods chains. Like most of the top fast-food restaurants, Dunkin Donuts is also an American donut company that operates around 12,000 locations in 42 countries.
Donuts, munchkins, and other baked goods with sandwiches and coffee are Dunkin Donuts' main products. Hot and cold beverages are served at the restaurant. The company has now changed its name from Dunkin Donuts to "Dunkin" and has a current advertising slogan as "America runs on Dunkin."
Baskin Robbins is owned by the Dunkin' brands, the parent company of Dunkin Donuts. It specializes in ice creams and cakes. It is known as the world's largest ice cream selling company with over 8,000 locations in more than 50 countries globally.
The company's logo has "31" written in its letters with the concept that a person should have a different flavor for all the 31 days of a month. Though, the company has produced more than 1300 flavors since origin. Baskin Robbins serves premium ice cream, frozen desserts, and beverages to around 300 million people.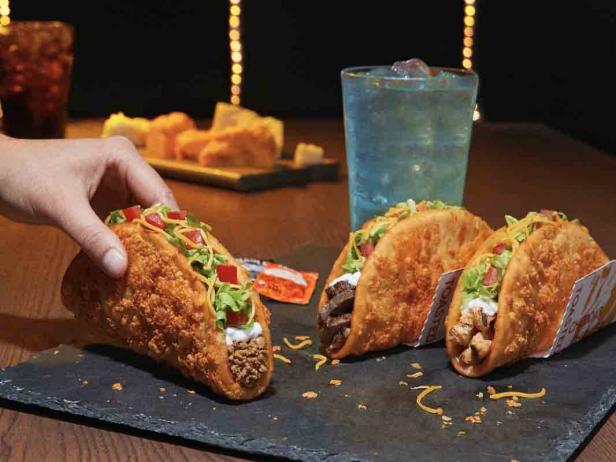 Though Hunt Brothers Pizza ranks before Taco Bell, according to the number of locations, Taco Bell is listed because of its international locations around 7,300 in 30 different countries around the world.
It has the same parent company as KFC and Pizza Hut. It specializes in tacos, burritos, hash browns, breakfast items, coffees, and juices. Taco Bell has got an active campaign of Dollar Cravings, where thirteen items from the menu are priced at US$ 1.